Our Envision® Process
The Laughton Wealth Advisory Group believes that before you make an investment decision, it's important to understand where you are and where you want to be in order to achieve your investment goals. Using the Envision tool, Wells Fargo Advisors innovative investment planning and profiling process, we will design an investment plan for you.
---
Do you have enough for a secure retirement?
Will you be able to leave something for the children?
What if medical expenses continue to double every decade?
What if Social Security benefits are cut or taxes are increased?
---
These are the kinds of questions that keep many of us awake at night. With the Envision process we are better equipped to answer them than ever before. Combining goals-based guidance with sophisticated statistical modeling and our commitment to helping you plan effectively, invest wisely and map a realistic financial course to your future years. This is the heart of our Envision planning process.
The objective is to allow you to live your life the best way possible, without undue compromise to your current or future lifestyle, and without taking unnecessary investment risk. The process begins with a simple discussion to identify realistic life goals, state them in measurable terms, set priorities among them and tie them to your investment portfolio. The Envision process is complimentary and without obligation.
At Wells Fargo Advisors, we start with your life – and plan your money around it.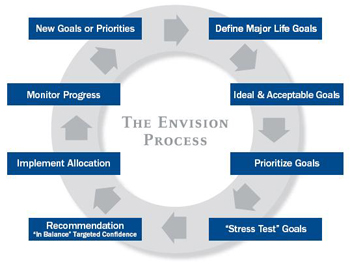 IMPORTANT: The projections or other information generated by Envision regarding the likelihood of various investment outcomes are hypothetical, do not reflect actual investment results and do not guarantee future results. Results may vary with each use and over time.